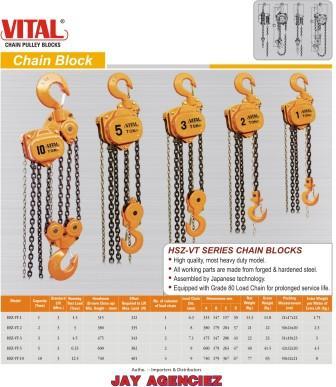 Product Description
Vital Chain Blocks
The most Heavy Duty & Light Weight chain Pulley Blocks, with Hardened Gears, Shafts & Grade 80 Load Chains.
HSZ series chain blocks
HSZ series chain block is designed with a transmission mechanism of
symmetrically arranged two-step spur gears.
It can automatically brake with the friction plate and pawl brake system.
The Working life is also very high along with it's durability and efficiency which make it popular all over the world. The Chain is of Grade 80 Alloy Steel & all the Gears are Made of Hardened Steel.
Remarks
:In addition to the standard lift we accept orders to 12m lift.
Model

HSZ-1/2

HSZ-1

HSZ-1/2

HSZ-2

HSZ-3

HSZ-5

HSZ-10

HSZ-20

Capacity T

0.5

1

1.5

2

3

5

10

20

Standard lifting height (m)

2.5

2.5

2.5

2.5

3

3

3

3

Test load (T)

0.75

1.5

2.25

3

4.5

6.25

12.5

25

min Headroom (hook to hook) Hmin (mm)

240

270

347

380

470

600

710

1000

Chain pull to lift full load (N)

221

304

343

314

343

381

392

392

No.of load chain fall lines

1

1

1

2

2

2

4

8

Diameter of bad chain (mm)

6

6

8

6

8

10

10

10

Dimensions (mm)

A

120

142

178

142

178

210

358

580

B

108

122

139

122

139

162

162

189

C

24

28

34

34

38

48

64

82

D

120

142

278

142

178

210

210

210

Net weight (Kg)

8

10

16

14

24

36

68

155

Gross Weight (Kg)

10

13

20

17

28

45

83

193

Packing measurement (LWaH) cm

28x21x17

30x24x18

34x29x20

33x28x19

38x33x20

45x39x24

55x51x29

70x46x75

Extra weight per meter of extra lift (Kg)

1.7

1.7

2.3

2.5

3.7

5.3

9.7

19.4