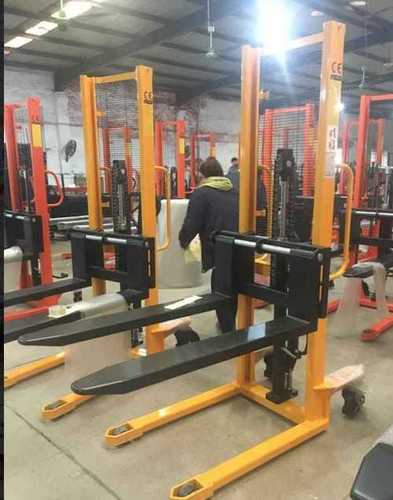 Product Description
LIFTIT make Hydraulic Stacker
Capacity of the Hydraulic Stacker : 1000 Kgs
Fork length: 1150mm/as per customer requirement
Fork width: 600mm/as per customer requirement
Fork: 150mm
Lower height: 90mm/100mm
Raised height: 1600mm
Pump : simple and reliable hydraulic system
Wheels : dust free nylon wheels with double sealed bearings.
Wheels steering and support wheels : 2 nylon wheels¸ 180 x 50mm
Load wheels : 4 nylon wheels¸ 80 x 70mm
Colour: Golden yellow powder coated color
Handle : Drawbar with finger protection clamp and release handle
Structure : Simplex single mast structure made from heavy duty channel section. It would be supported by heavy-duty deep grooved guide rollers. Forks lifting would be by means of 2 nos. Duplex chain & design pulley.
Liftit Hydraulic Pallet Stacker that is fabricated using high quality raw material and is a safe and ergonomic alternative to fork trucks and that too at a very economical price.
Precision engineered to enable smooth operation and outstanding durability, these hydraulic stackers are designed to efficiently handle various kinds of actions such as lifting and transporting skids, bales and baskets, among others. These Hydrualic stackers are primarily used for loading and unloading trucks, stocking shelves, die and mold handling.