Devcon Wear Resistant Putty WR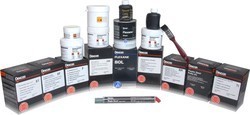 Devcon Wear Resistant Putty WR
Price And Quantity
Product Specifications
Wear Resistant Putty

Other
Industrial Grade

For Sealing, Protecting and Repairing Surface
Product Description
Devcon Wear Resistant Putty (WR-2)
Devcon Wear Resistant Putty Description: Devcon Wear Resistant Putty is a ceramic-filled epoxy putty with a smooth, low-friction finish.
Devcon Wear Resistant Putty Intended Use: Devcon Wear Resistant Putty is used For repairing flange faces, machine ways, valve seats and bodies, and tracing guides
Devcon Wear Resistant Putty Product features: Devcon Wear Resistant Putty is Rebuilds and protects interfacing metal surfaces, Protects metal from bi-metallic corrosion, Repairs metals and concrete.
Devcon Wear Resistant Putty Limitations: Not recommended for long-term exposure to concentrated acids or to organic solvents
Typical Physical Properties: Technical data should be considered representative or typical only and should not be used for specification purposes
Cured 7 days 75 degrees Faren height
Adhesive Tensile Shear - 2,200 psi
Coefficient Degrees Farenheight Thermal Expansion - 32 [(in.)/(in). x F)] x 10(-6)
Color - Dark Grey
Compressive Strength - 9,800 psi
Coverage/lb - 56 sq. in./lb. 1/4"
Cured Hardness - 85D
Cured Shrinkage - 0.0005 in./in.
Dielectric Constant - 6.3
Dielectric Strength - 400 volts/mil
Flexural Strength - 6,500 psi
Functional Cure - 16 hrs
Mix Ratio by Volume - 4:1
Mix Ratio by Weight - 9:1
Mixed Viscosity - Putty
Modulus of Elasticity - 7.5 psi x 10(5)
Pot Lif 75F - 45 min.
Recoat Time - 2-4 Hrs
Solids by Volume - 100
Specific Gravity - 1.8 gm/cc
Specific Volume - 13.9 in.(3)/lb.
Temperature Resistance - Wet: 130F; Dry: 250F
Thermal Conductivity - 1.67[(cal x cm)/(sec x cm(2)
TESTS CONDUCTED :
Adhesive Tensile Shear ASTM D 1002
Cure Shrinkage ASTM D 2566
Dielectric Strength, volts/mil ASTM D 149
Dielectric Constant ASTM D 150
Modulus Degrees Farenheight Elasticity ASTM D 638
Compressive Strength ASTM D 695
Cured Hardness Shore D ASTM D 2240
Coef. Degrees Farenheight Thermal Expansion ASTM D 696
Flexural Strength ASTM D 790
Thermal Conductivity ASTM C 177
Surface Preparation: 1. Thoroughly clean the surface with Devcon Cleaner Blend 300 to remove all oil, grease and dirt.
2. Grit blast surface area with 8-40 mesh grit, or grind with a coarse wheel or abrasive disc pad, to create the increased surface area for better adhesion (Caution: An abrasive disc pad can only be used provided white metal is revealed).
Desired profile is 3-5 mil, including defined edges (do not "feather-edge epoxy).
Note: For metals exposed to seawater or other salt solution, grit-blast and high-pressure-water-blast the area, then leave overnight to allow any salts in the metal to sweat to the surface. Repeat blasting to sweat out all soluble salts. Perform
chloride contamination test to determine soluble salt content (should be no more than 40ppm).
3. Clean surface again with Devcon Cleaner Blend 300 to remove all traces of oil, grease, dust or other foreign substances from the grit blasting.
4. Repair surface as soon as possible to eliminate any changes or surface contaminants.
Trade Information
Cash in Advance (CID) Cash Advance (CA)

10 Per Day