Devcon Aluminum Filled Epoxy Putty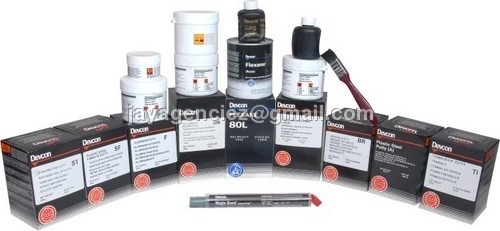 Devcon Aluminum Filled Epoxy Putty
Price And Quantity
Product Specifications
Aluminium Foil

For Sealing, Protecting and Repairing Surface
Product Description
Devcon Aluminum Putty F
Description : Devcon Aluminum -filled epoxy putty for dependable non rusting repairs to aluminum castings, machinery, and equipment widely used in HVAC applications.
Intended Use: Devcon Aluminum Putty is a Patch for aluminium castings; make jigs, dies, and holding fixtures.
Product features: Devcon Aluminum Putty Can be machined, drilled, or tapped using conventional metalworking tools Bonds to aluminium, concrete, and many other metals Fill voids or pores in castings.
Limitations: Devcon Aluminum Putty is Not recommended for long-term exposure to concentrated acids and organic solvents.
Specification
| | |
| --- | --- |
| Adhesive Tensile Shear | 2,600 psi |
| Compressive Strength | 8,420 psi |
| Cured Hardness | 85D |
| Cured Shrinkage | 0008 in./in |
| Dielectric Constant | 21.4 |
| Dielectric Strength | 100 volts/mil |
| Flexural Strength | 6,760 psi |
| Modulus Elasticity | 8.0 psi x 10(5) in |
| Specific Gravity | 1.58 gm/cc |
| Surface of Application | metal or aluminum |
| Color | grey |
| Brand | Devcon Aluminum Putty F |
| State/Form | Liquid |
TESTS CONDUCTED :
Compressive Strength ASTM D 695
Cured Hardness Shore D ASTM D 2240
Dielectric Constant ASTM D 150
Modulus of Elasticity ASTM D 638
Cure Shrinkage ASTM D 2566
Adhesive Tensile Shear ASTM D 1002
Dielectric Strength, volts/mil ASTM D 149
Coef.of Thermal Expansion ASTM D 696
Flexural Strength ASTM D 790
Thermal Conductivity ASTM C 177