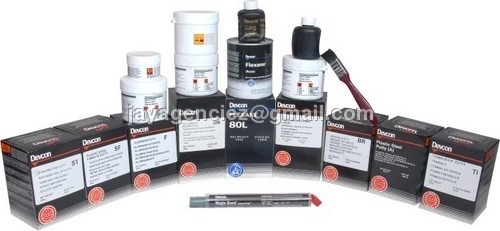 Devcon Aluminum Filled Epoxy Putty
Price And Quantity
Product Specifications
Aluminium Foil

For Sealing, Protecting and Repairing Surface
Product Description
Devcon Aluminum Putty F
Description : Devcon Aluminum -filled epoxy putty for dependable non rusting repairs to aluminum castings, machinery, and equipment widely used in HVAC applications.
Intended Use: Devcon Aluminum Putty is a Patch for aluminium castings; make jigs, dies, and holding fixtures.
Product features: Devcon Aluminum Putty Can be machined, drilled, or tapped using conventional metalworking tools Bonds to aluminium, concrete, and many other metals Fill voids or pores in castings.
Limitations: Devcon Aluminum Putty is Not recommended for long-term exposure to concentrated acids and organic solvents.
Typical Physical Properties: Technical data should be considered representative or typical only and should not be used for specification purposes Cured 7 days @ 75 Degrees Farenheight.
Color Aluminum
Mix Ratio by Volume - 4:1
Mix Ratio by Weight - 9:1
% Solids by Volume - 100
Pot Life 75degrees 60 min
Specific Volume 17.5 in.(3) /lb
Cured Shrinkage 0008 in./in
Specific Gravity 1.58 gm/cc
Temperature Resistance Wet: 120°F; Dry: 250 degrees
Coverage/lb - 70 sq.in./lb. 1/4"
Cured Hardness - 85 D
Dielectric Strength - 100 volts/mil
Dielectric Constant - 21.4
Adhesive Tensile Shear - 2,600 psi
Compressive Strength - 8,420 psi
Modulus Elasticity - 8.0 psi x 10(5) in
Flexural Strength - 6,760 psi
Coefficient Degrees Farenheight Thermal Expansion - 29 [(in.)/(in). x °F)] x 10(-6)
Thermal Conductivity 1.73 [(cal x cm)/(sec x cm(2) x °C)] x 10(-3)
Cure Time - 16 hrs
Recoat Time - 10-12 hrs
Mixed Viscosity - Putty
TESTS CONDUCTED :
Compressive Strength ASTM D 695
Cured Hardness Shore D ASTM D 2240
Dielectric Constant ASTM D 150
Modulus of Elasticity ASTM D 638
Cure Shrinkage ASTM D 2566
Adhesive Tensile Shear ASTM D 1002
Dielectric Strength, volts/mil ASTM D 149
Coef.of Thermal Expansion ASTM D 696
Flexural Strength ASTM D 790
Thermal Conductivity ASTM C 177
Application Instructions: Spread mixed material on repair area and work firmly into a substrate to ensure maximum surface contact. Devcon Aluminum Putty F will fully cure in 16 hours, at which time it can be machined, drilled, or painted. FOR BRIDGING LARGE GAPS OR HOLES Place fibreglass sheet, expanded metal, or mechanical fasteners between repair area and Devcon Aluminum Putty F prior to application.