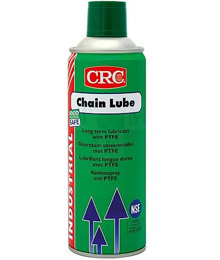 CRC Food Grade Chain Lube
Product Description
CRC Food Grade Chain Lube
Water resistant, adhesive chain lubricant.
A specially formulated blend of high quality mineral and synthetic oils, anti-oxidation and anti-wear additives, friction modifiers and tackiness agents. Adhesive Lubricant penetrates deeply into vital chain pin and bushing areas, then sets to form an adhering, long lasting lubricant film. Designed even for highly loaded fast running chains used in corrosive, high power and shock load conditions.
FEATURES
Resists hot and cold water wash-off.
Resists high rpm sling-off.
Reduces friction and wear.
Reduces noise and vibration.
Extends chain life.
O-ring compatible.
Harmless to metals and most plastics and rubbers (test before using on stressed plastic parts).
Does not contain chlorinated solvents.
Aerosol formula uses hydrocarbon propellant and is provided with an extension tube for precise, controlled application and film thickness.
APPLICATIONS
Chain drives.
Sprockets.
Open gears.
Wire ropes.
Pulleys.
Snatch blocks.
Hoists.
Conveyors.
Forklifts.
Overhead door drives.
Motorcycle chains.
Tractors and farm equipment.
Construction site equipment.
Car wash equipment.
Marine lubrication.
DIRECTIONS
Do not mix with other lubricants. Clean parts to be lubricated with CRC Quickleen and let dry.
Apply evenly onto the chain, wire rope, etc. and allow product to penetrate and set for a few minutes.
Do not energise or start high speed/high load equipment before product has penetrated.
Excess or spilled product can be removed with CRC Quickleen.
Do not use on energised equipment.
A safety data sheet (MSDS) according EU directive 93/112 is available for all CRC products.
TYPICAL(*) PRODUCT DATA (without propellant)
Appearance : clear, blue liquid
Specific gravity @ 20°C : 0,80
Flash point (solvent, closed cup) : < 0 °C
Dry film properties
Specific gravity @ 20°C : 0.91
Kinematic viscosity @ 40°C : 680 mm2/s.
Viscosity index : 111
Flash point (open cup) : 236°C
Pour point : -12°C
Brugger wear test : 50N/mm2
Max. temperature (**) : 150°C
180°C (intermittent)
Humidity cabinet corrosion resistance (50°C, 100% RH) (***)
PACKAGING
aerosol : 12 x 200 ml
12 x 500 ml (Adhesive Lubricant)
These values are not intended to be used as specifications.They are based on information we believe reliable. However, it is the users responsibility to determine the suitability of the product for his own use 150°C is max. temperature for typical applications; 180°C is only for short term intermittent. However, even at 150°C, a slow decomposition and some carbon deposits may occur. Periodical carbon removal and re-lubrication is indicated.

Practical corrosion protection will depend mainly on surface conditions and environment.The first application therefore should be checked periodically for signs of corrosion. Once the protection time under specific conditions is determined, CRC Chain Lube may be re-applied to maintain performance.

This Technical Data Sheet refers to article numbers starting with 10290.

Version number: 10290 03 0900 01