CRC Brakleen Brake Parts Cleaner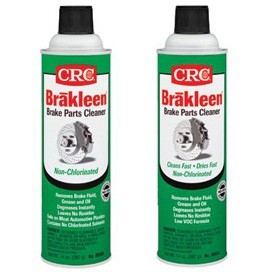 CRC Brakleen Brake Parts Cleaner
Product Description
CRC Brakleen Brake Parts Cleaner
Powerful cleaner/degreaser for brake and clutch parts.
A non-chlorinated solvent blend, formulated to quickly and safely remove brake fluid, grease, oil and other contaminants from brake and clutch parts.
Brakleen helps brakes last longer and perform better.
FEATURES
Effectively removes brake fluid, grease, oil and hardened deposits.
Degreases instantly.
Reduces disc-brake squeal and clutch chatter.
Can be applied without disassembly, saving time and reducing maintenance costs.
Evaporates quickly.
Leaves no residue.
Low surface tension gives excellent penetration and ensures superior dissolving and degreasing properties.
Stable, non-staining and non-corrosive to metals.
Safe on most plastics, coatings and rubbers (test prior to use).
Aerosol is equipped with a 360o (upside-down) spray valve and extension tube for added convenience.
Aerosol is pressurised with non-flammable CO2 propellant, giving an active product content of over 97%.
APPLICATIONSPerfect for cleaning and degreasing :
Brake linings
Drums
Cylinders
Brake shoes
Disc brake pads
Discs
Wedge brakes
Springs
Callipers
Clutch discs
Equipment
Parts and tools
DIRECTIONS
Spray liberally and allow excess to run off. Air dry or dry with absorbent cloth. Repeat if necessary.
Use extension tube for hard-to-reach areas.
After application, re-lubricate with CRC 5-56 if necessary.
Check plastics and rubber compatibility before use. Do not use on sensitive electronics. Use one of CRC's precision cleaners for these applications.
Use with adequate ventilation. Do not use on energised equipment. Allow to dry thoroughly and vent before reactivating system.
A safety data sheet (MSDS) according EU directive 93/112 is available for all CRC products.
TYPICAL(*) PRODUCT DATA (without propellant)
Appearance : colourless liquid, typical odour
Specific gravity @ 20C : 0,72
Boiling range : 55-120 C
Vapour density (vs. air = 1) : 3
Freezing point : < -30C
Evaporation rate (vs. ether = 1) : 2,8
Flash point (closed cup) : < 0C
Surface tension @ 20C, est. : 21 mN/m
Plastics compatibility : to be checked (**)
Non-volatiles : none
PACKAGING
aerosol : 12 x 500 ml
bulk : 4 x 5 L
20 L
60 L
These values are not intended to be used as specifications.They are based on information we believe reliable. However, it is the user's responsibility to determine the suitability of the product for his own use.

Sensitive plastics (e.g. polystyrenes and polycarbonates, ) need to be checked, particularly when thermal or mechanical stress is involved.

This Technical Data Sheet refers to article numbers starting with 10126.

Version number: 10126 03 0900 01