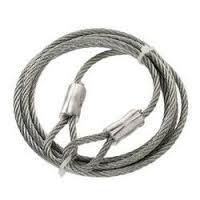 wire rope sling
Price And Quantity
Product Specifications
Product Description
Wire rope slings are extremely strong and an excellent choice for heavy-duty jobs involving not only lifting, but also hosting, towing, or anchoring loads. The fabrication of wire slings also offers excellent abrasion resistance and heat resistance so it can be used in extreme conditions and temperatures. Its pliable design can conform to the shape of a load for a more secure application.

The numbers represent the number of wires making up the strand and the number of strands wrapped around the core. For example, a 6x19 indicates that there are 19 wires making up a strand, and 6 strands are wrapped around the core.

Each steel wire rope configuration will offer different benefits and will be better suited to certain applications. In general, a smaller number of large outer wires offers better wear and corrosion resistance, while a larger number of small wires provides a better level of flexibility and fatigue resistance.

We offer steel wire rope slings in both 6x19 and 6x36 configurations, depending on the diameter of the wire rope. All are in a bright (unfinished) wire rope, but other configurations are available by request.

The eye loops on our sling cable are created with a flemish splice, which is a mechanical splice where the rope cable is separated into two parts (one part has three strands, the other part has the remaining three strands plus the core), then re-laid back in the opposite direction to form the loop. The ends are then secured with a carbon steel sleeve around the entire area. Flemish splices offer the most efficient use of capacity.
Single Body Wire Rope Slings feature 6 x 19 or 6 x 37 Construction, Extra Improved Plow Steel (EIPS) wire rope with an Independent Wire Rope Core (IWRC). Single Body, Flemish Eye/Mechanical Splice, Wire Rope Slings provide additional security, superior to return loop slings should the swage sleeve become damaged during use. Thimbles greatly improve sling longevity by protecting the rope at connection points.
Stainless Steel Slings, Fiber Core Slings with reduced Work Load Limits, Cable Laid Slings with galvanized finish and larger diameter slings are also available.
See 'Product Resources' above for Important Safety, Use and Inspection Information.
Trade Information
Cash Advance (CA), Cash in Advance (CID)

10 Per Day
1-2 Days

Asia, Australia, Central America, North America, South America, Eastern Europe, Western Europe, Middle East, Africa