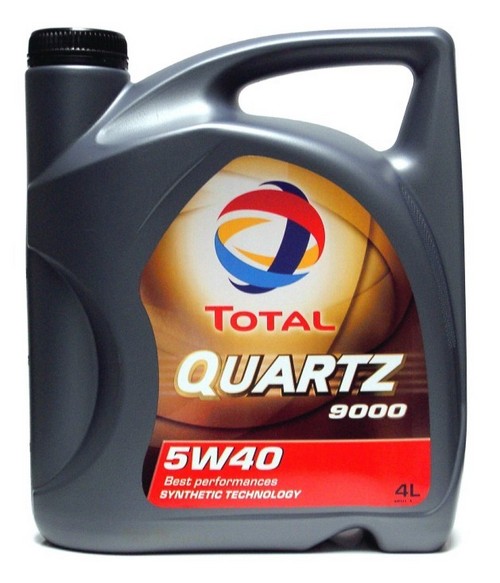 Fully Synthetic Engine Oil
Price And Quantity
Product Specifications
For Automotive

Engine Oil
0.851 Gram per cubic meter (g/m3)

Red, Brown and Black
Product Description
TOTAL QUARTZ 9000 5W-40
Synthetic technology multigrade oil for Gasoline and Diesel engines
USES
TOTAL QUARTZ 9000 5W-40 has been developed to cover the most stringent requirements of both recent gasoline and diesel engines (since MY 2000).
TOTAL QUARTZ 9000 5W-40 is particularly suited to turbocharge, multi-valve and direct injection engines.
TOTAL QUARTZ 9000 5W-40 can be used in the most difficult operating conditions (motorways, dense city traffic.), whatever the season.
TOTAL QUARTZ 9000 5W-40 is perfectly adapted to all vehicles equipped with catalysts and using unleaded fuel or liquefied petroleum gas.
Approved by
NORM PSA PEUGEOT CITROEN B71 2296 Gasoline and Diesel
VOLKSWAGEN 502.00/505.00
BMW Longlife oil 01
Mercedes Benz 229.3
PORSCHE
CUSTOMER BENEFITS
Extended Drain Interval.
Exceptional oxidation resistance.
Easy cold starts and fuel economies due to its extreme fluidity; at low temperature; and a very resistant oil film even at high temperature
Protects mechanical parts and fully preserves the engine power, thus contributing to its youth and strength
Keeps the engine's most sensitive parts clean thanks to its advanced detergent and dispersive additives
Tag:
fully synthetic oil, best fully synthetic engine oil, fully synthetic motor oil, 5 30 fully synthetic oil, cheap fully synthetic engine oil, petronas fully synthetic engine oil, 5 40 fully synthetic oil, fully synthetic 2 stroke oil, 10 40 fully synthetic oil, fully synthetic oil for diesel engine, best fully synthetic motor oil, fully synthetic motorcycle oil, 5w 40 oil fully synthetic, 5w 30 fully synthetic oil, semi or fully synthetic oil, 2 stroke fully synthetic oil, synthetic engine oil, semi synthetic engine oil, synthetic engine oils, full synthetic engine oil, engine oil synthetic, synthetic engine oil for cars, 5w30 fully synthetic engine oil, 5w30 fully synthetic oil, 5w30 fully synthetic, engine oil 5w30 fully synthetic, fully synthetic oil 5w30, best engine oil, best diesel engine oil, best car engine oil, 5w40 fully synthetic engine oil, 5w40 fully synthetic oil, 5w40 fully synthetic, fully synthetic 5w40, triple fully synthetic oil 5w40, 5w40 fully synthetic diesel oil, 5w40 fully synthetic oil 5 ltr, oil 5w40 fully synthetic, mobil 5w40 fully synthetic, carlube 5w40 fully synthetic, mobil oil synthetic, engine oil price, synthetic engine oil price, engine oil prices, price of engine oil, engine oil price list, engine oil brands, engine oil brand, synthetic engine oil brands, car oil brands, synthetic oil brands, car engine oil, engine oils for cars, car oil, car engine oils, what oil for my car, which oil for my car, engine oil for cars, car oil change, engine oil for car, synthetic oil for cars, cheap car oil, oil for car

CHARACTERISTICS
TOTAL QUARTZ 9000 5W-40

Units

SAE Grade 5W-40

Volumetric mass at 15oC Viscosity at 40oC Viscosity at 100oC Viscosity index Flash point Cleveland Pour point

The typical characteristics mentioned represent mean values.

kg/m3
mm2/s
mm2/s
-
oC oC




854.3
82.19
13.60
169
228
-39
Trade Information
Africa, Middle East, Western Europe, Eastern Europe, South America, North America, Central America, Australia, Asia

All India