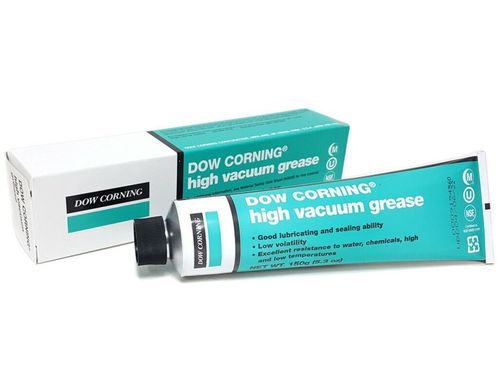 DOW CORNING high vacuum grease
Price And Quantity
Product Specifications
Product Description
Dow Corning High Vacuum Grease is a stiff, nonmelting silicone lubricating material and has much higher stability at the higher end of the temperature range(-40° C to 200° C), than hydrocarbon greases such as Apiezon M, However, its initial room temperature pumpdown characteristics are not as quite as good taking noticeably longer to out-gas. This grease is very popular as a general laboratory lubricant, in large part to its low cost relative to the alternatives. The product is very popular as a stop cock grease as well as for use as an anti-seize grease in ground glass joints. It is the recommended replacement for Dow Corning Stop Cock Grease. Dow Corning High Vacuum Grease is also used to lubricate synthetic and silicone rubber gaskets being used in high temperature applications. It should not be considered for use on fluorosilicone "O" rings and gaskets.Dow Corning High Vacuum Grease is recommended for vacuums reaching between 1x10-5 and 1x10-6 torr. It is recommended that the grease be preconditioned under vacuum and temperature until these limits are reached to avoid sample contamination.
The Dow Corning High Vacuum Grease is not compatible with normal hydrocarbon or perfluorinated polyether pump fluids and since these are the pump fluids normally used in an electron microscope column, we do not recommend this product for the microscope column application. However, it is quite an acceptable choice for use in vacuum evaporators, especially for lubricating the bell jar "O" ring seal except where Si free carbon coated grids are being made. Once a vacuum evaporator is "contaminated" with silicone from either grease or diffusion pump fluid, it is nearly impossible to ever return it to the state of being able to produce silicon-free carbon coated grids. If you are having this problem with Si contamination of your carbon grids, then consider having SPI Supplies make your grids for you using our custom grid coating program. As is the case for the selection of any component being brought into a vacuum system, the prospective user should be familiar with the product's specifications and properties. Again, as mentioned above, we would not recommend the use of this product in contact with a fluorosilicone "O" ring or gasket.
Other Applications:
The grease also finds wide application for the lubrication of water-treating equipment and general laboratory equipment even for non-vacuum applications. It is used for the lubrication of "o" rings on binoculars and telescopes, and is also used to prevent fogging on delicate lenses and mirrors.
Listing Specifications:
FDA 21 CFR 175.300
USDA: Approved for incidental food contact in federally inspected meat and poultry plants
NSF 61.Chemical Resistance:Dow Corning High Vacuum Grease resists vegetable and mineral oils and common gases. It also resists aqueous solutions of inorganic salts and dilute acids and alkalis.
Securing or including complete information on variables such as pressure, flow velocity, relubrication schedules and valve construction is impractical. For the reason the suitability of Dow Corning High Vacuum Grease should always be tested before the material is adopted for regular use.When stored under normal warehouse conditions, Dow Corning High Vacuum Grease has a shelf life of 60 months from date of manufacture. Refer to the product packaging for the "use by" date.Dow Corning High Vacuum Grease is not recommended for use:In contact with liquid oxygen and should not be used in applications requiring LOX compatibility.
Trade Information
1-2 Days

Africa, Middle East, Western Europe, Eastern Europe, South America, North America, Central America, Australia, Asia