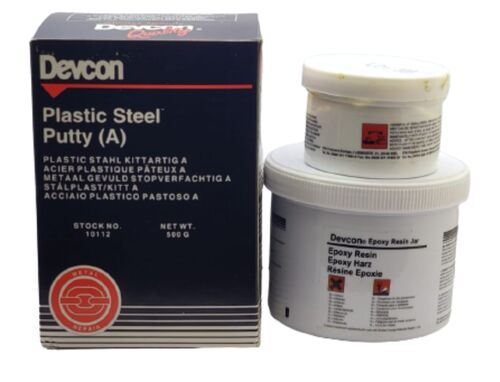 Devcon Plastic Steel Putty A
Price And Quantity
Product Specifications
Product Description
Plastic Steel Putty/Devcon Plastic Steel Putty A

Description: Devcon Plastic Steel Putty is a steel-filled epoxy putty that cures at room temperature and is designed for filling, rebuilding, and bonding metal surfaces.
Intended Use: Devcon Plastic Steel Putty is a Patching and repairing areas where welding or brazing would be undesirable or impossible
Product features: Devcon Plastic Steel Putty Applies easily to vertical surfaces, Machinable to metallic finish, Bonds to aluminium, concrete, and many other metals, Resistant to chemicals and most acids, bases, solvents, and alkalis.
Technical Properties of Devcon Plastic Steel Putty
Color Grey
Mix Ratio by Volume 2.5:1
Mix Ratio by Weight 9:1
% Solids by Volume 100
Pot Life 75F 45 min.
Specific Volume 11.9 in.(3)/lb
Cured Shrinkage 0.0006 in./in.
Specific Gravity 2.33 gm/cc
Temperature Resistance Wet: 120 Degrees F; Dry: 250 Degrees F
Coverage/lb 48 sq. in 1/4 in
Cured Hardness 85D
Dielectric Strength 30 volts/mil
Dielectric Constant 37.5
Adhesive Tensile Shear 2800 psi
Compressive Strength 8260 psi
Modulus of Elasticity 8.5 x 10(5) psi
Flexural Strength 5600 psi
Coefficient of Thermal Expansion 48 [(in)/(in) x °F)] x 10(-6)
Thermal Conductivity 1.37 [(cal x cm) / (sec. x cm(2) x °C)] x 10 (-3)
Cure Time 16 Hrs
Recoat Time 10-12 Hrs
Mixed Viscosity Putty
Application Instructions: Spread mixed material on repair area and work firmly into a substrate to ensure maximum surface contact. Plastic Steel®
Devcon Putty A fully cures in 16 hours, at which time it can be machined, drilled, or painted.
FOR BRIDGING LARGE GAPS OR HOLES
Place fibreglass sheet, expanded metal, or mechanical fasteners between repair area and Plastic Steel Putty A prior to application.
FOR VERTICAL SURFACE APPLICATIONS
Devcon Plastic Steel Putty A can be troweled up to thick without sagging.
FOR MAXIMUM PHYSICAL PROPERTIES
Cure at room temperature for 2.5 hours, then heat cure for 4 hours 200 Degrees F.
FOR 70 Degrees F APPLICATIONS
Applying epoxy at temperatures below 70 Degrees F lengthens functional cure and pot lifetimes. Conversely, applying above 70 Degrees F shortens functional cure and pot life.
MACHINING: Allow material to cure for at least 16 hours before machining.
Tag:
Devcon Titanium Putty, Devcon Plastic Steel Putty, Devcon Epoxy Putty, Plastic Steel Putty, Devcon Epoxy, Maintenance repair and Overhaul, INDUSTRIAL EPOXY PUTTIES, 180 Degrees Centigrade, ON LINE LEAK ARRESTOR, DEVCON, EPOXY PUTTY, BRUSHABLE CERAMIC, TITANIUM PUTTY, STEEL PUTTY, HIGH TEMPERATURE, RESISTANT, PUTTY, BELZONA 1111, BELZONA BRUSHABLE CERAMIC, BELOZONA EPOXY PUTTY, WURTH SILICON SPRAY, Instant Adhesive, Anti Corrosive Coating, Metal Repair Putties, Cold welding Compound, Bronze Putty, Wet Surface Putty, Abrasion Resistant Putty, Under water Putty, Devcon Plastic Steel Putty, Devcon 5 Minutes Epoxy Putty, Devcon 5 Minute Epoxy Putty, Devcon Stainless Steel Putty, Devcon Metal Magic Bond, Devcon Aluminum Putty, Machinable Putty, Easily Drilled Putty, Online Leak Arrestor, High temperature resistant leak arrestor, Marine Grade Putties, Food Grade Epoxy Putty, Devcon Plastic Steel Putty, Devcon Plastic Steel 5 Min Putty , Devcon Titanium Putty, Devcon Brushable Ceramic Blue, Devcon Wet Surface Repair Putty , Devcon Wet Surface Repair Putty
Trade Information
Contact us for information regarding our sample policy

All India