CRC LECTRA CLEAN - CLEANER AND DEGREASER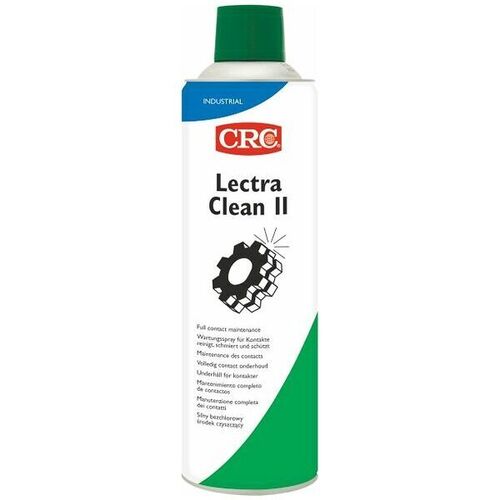 CRC LECTRA CLEAN - CLEANER AND DEGREASER
Product Description
1. GENERAL DESCRIPTION
Non-flammable electrical parts cleaner. CRC Lectra Clean is a heavy duty degreaser with strong cleaning action and fast evaporation.The chlorinated solvent blend is designed to quickly and effectively clean electrical/mechanical components, preventing failures and malfunctions caused by contaminants such as dust, dirt, grease and oil.
2. FEATURES
Contains no ozone depleting chemicals: ODP = 0.

Gives no contribution to global warning : GWP = 0.

Very low ozone creation potential : OCP : 0,05.

Promotes operating efficiency.

Contributes to prolonged equipment life.

Evaporates quickly and leaves no residue.

Non-staining, non-corrosive and non-conductive.

No flash point.

May be harmful to some plastics, rubbers, adhesives and paints. (Test prior to use.)

Aerosols are equipped with the 360 (upside-down) spray valve for added convenience.

Pressurised with non-flammable CO2 propellant, giving an active product content of 97%.
3. APPLICATIONS
An effective heavy duty degreaser for :
Air tools

Bearings

Compressors

Chains & Wire ropes

Dies & molds

Mechanical brakes & clutches

Motors

Generators

Tools

Corroded machinery and parts.
4. DIRECTIONS
Apply liberally by spraying or dipping and allow excess to run off. Use extension tube for hard-to-reach areas. In dipping bath applications, agitation enhances cleaning action. May also be applied by wiping or by brushing.To clean equipment interior, covers, plates, etc. should be removed prior to product application.

Allow to air dry or dry with absorbent cloth. After cleaning, use CRC 2-26 for lubrication and protection.
May attack some plastics, rubbers, adhesives and paints. Do not use on polycarbonate or polystyrene. If in doubt, test on a small area before using or contact the manufacturer of the equipment.



Do not use on sensitive electronic equipment such as tape desks,VCRs, computers, etc. Use one of CRCs contact cleaner products for this.

Use only in well ventilated area.

A safety data sheet (MSDS) according EU93/112 is available for all CRC products.
5. TYPICAL(*) PRODUCT DATA (without propellant)
Appearance : clear liquid
Odour : chlorinated solvent
Distillation range : 85-125C
Freezing point : < -20C
Specific gravity (@ 20C) : 1,50
Vapour density (vs. air = 1) : > 4
Kauri-Butanol value : 125
Flash point (closed cup) : none
Evaporation rate (vs. ether = 1) : 4
Non-volatile content : < 50 ppm
Surface tension (@ 20C) : 32 mN/m
Dielectric constant (@ 1000 Hz) : 3,0 0,5
Drying time (vertical)(**) : < 0,5 hrs.
6. PACKAGING
aerosol : 12 x 400 ml
bulk : 4 x 5 L
200 L