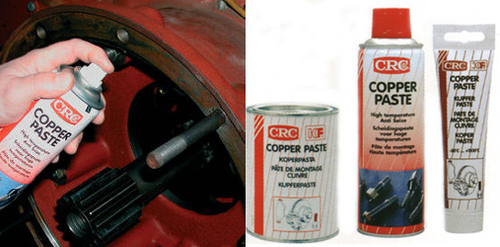 CRC Copper Paste Aerosol Spray
Product Description
CRC Copper Paste Aerosol Spray

GENERAL DESCRIPTION
High temperature anti-seize lubricant.
CRC Copper Paste is a soft, copper-coloured paste, based on micronised copper powder and synergistic anti-oxydant, anti-corrosion and anti-wear additives suspended in a premium grade stable oil. It is an effective anti-seize formulation, preventing metal-to-metal contact, seizing, galling, and fretting corrosion.
FEATURES
Reduces friction and wear, even when the base oil has already evaporated.
High pressure and high temperature resistance.
Ensures accurate assembly.
Enables easy disassembly of threaded parts, gaskets and flanges, even after long operational periods.
Threaded parts remain in good condition and can be re-used.
Separating film ensures favourable release behaviour of the threaded connections.
Excellent sealing even in corrosive atmospheres.
Resistant to hot and cold water.
Lead-free and nickel-free.
Aerosol formulation does not contain chlorinated solvents and uses hydrocarbon propellant.
APPLICATIONSAn effective anti-seize lubricant for :
Bolts, nuts, pins
Screw connections on hydraulic equipment
Guides for brakes
Bushings, fittings
Brake adjusters
Spark plugs
Splines
To absorb disk brake noise.
Wheel screws
Flanges, flange seals
Pipeline connections
Exhaust screw connections
Linkages
Sliding sleeves / shafts
Press fits.
The surfaces to be treated should be clean, dry and grease-free. Wirebrush scaled parts and clean with an oil-free solvent like CRC Industrial Degreaser or CRC Fast Dry Degreaser.
A thin, even film should be applied either by spraying or by brushing.
Assembled parts (gear teeth, screws) can slowly be put in motion.
Avoid mixing with other products.
Test before use on plastics or rubber.
Do not use on energised equipment, oxygen systems or in presence of acetylene.
Use aerosol only in ventilated areas.
A safety data sheet (MSDS) according EU directive 93/112 is available for all CRC products.
TYPICAL(*) PRODUCT DATA (without propellant)
Appearance : homogenous, copper coloured
Aerosol properties
Flash point (open cup) : < 0°C
Boiling range (solvent) : 60-95°C
Vapour density (vs. air=1) : 3
Specific gravity (@ 20°C) : 0,81
Dry film properties
Specific gravity (@ 20°C) : 0,99
Flash point (open cup) : > 200°C
Dropping point : none
NLGI consistency : 1 - 2
Low temperature stability : -30°C
Temperature resistance **

lubrication : 300°C
anti-seize : 650°C

Hot water resistance (DIN 51807 T1, 40°C, 90°C) : 1
Corrosion (DIN 51802) : 0/0
Four Ball Wear (DIN 51350 T5, 1h, 500N) : 0,5 mm
PACKAGING
aerosol : 12 x 300 ml
tubes : 12 x 100 ml
bulk : 12 x 500 g