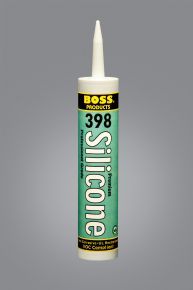 Boss 389 Weather Sealant for Aluminum Panels
Product Description
Boss 389 Weather Sealant for Aluminum Panels

BOSS ® 389 Weather Seal Silicone Sealant is an one part neutral cure, medium modulus, low odor, construction grade sealant that offers excellent adhesion, weather ability and compatibility with wide variety of materials. BOSS 389 is ideally suited for weather proofing, waterproofing, sealing, expansion and control joints and general purpose glazing.

BOSS ® 389 has excellent adhesion to glass, glazed surfaces, galvanized steel, anodized aluminum, concrete, cement, wood, ceramics, painted surface and many plastics.

Boss 389 Weather Sealant for Aluminum Panels fully meets or exceeds the requirements of the following specifications:

ASTM C920-86
TT-S-001543A and
TT-S-00230C.
FEATURES:
One Part , no mixing required
Easy to apply
Excellent adhesion to most common building materials
Low Odor
Non-Corrosive to metal
Permanently Flexible
Weather proofs / Waterproofs
UV resistant
TYPICAL PROPERTIES

Uncured

Specific Gravity

1.40

Colors

Black, Grey and White

Sag/Slump

NIL

Tack-Free Time

> 90min

Cure Time at 75°F (24°C) and 50% RH (3/8 ' thickness)

24 hours

Full Cure time

7- 10 days

Tooling time

25-30 min

Extrusion Rate

275 g/min

Cured @ Physical

Elongation

375%

Duro meter Hardness, Shore A, points

25

Tensile Strength, psi

195

Dynamic Movement Capability Cycled at 1/8'¢ hr.,1/8min.%

± 30